Inspiration and dedication: Meet the BGU Honorary Doctorate Recipients - Cohort 2022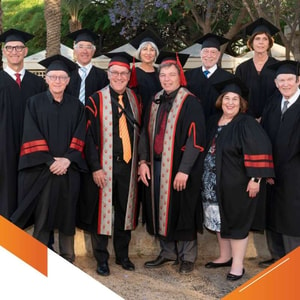 Eight outstanding individuals received honorary doctorates from Ben-Gurion University of the Negev on the evening of Tuesday May 17, 2022, during the 52nd Board of Governors Meeting. They include one author, one CEO, three philanthropists, one rabbi, one scientist, and one university chancellor from five different countries.
In this special episode of BGU Radio, Prof. Simon Barak and Dr. Buzi Raviv went to meet some of the BGU honorary doctorate recipients and asked them questions about their lives, feelings, careers, thoughts for the future and more! All had important messages for the BGU Community, that you don't want to miss!
So, sit back, relax, and be inspired.
Timestamps for the episode:
0:38 - Prof. Louise Richardson, UK 12:55 – Rabbi Denise L. Eger, USA 29:47 - David Grossman, Israel
Click here to read the full list and description of the honorary doctorate recipients.
Credits:
Produced and hosted by: Prof. Simon Barak and Dr. Buzi Raviv
Edited by: Dr. Buzi Raviv
Music: Arak Eshkoliot - Tea Packs
Special thanks: Aviva Barach, Chani Silverman